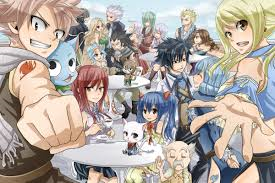 OK, so it's been a while since I did my first Anime Review, so I thought I'd do another one for you lovely people
I've been recently watching Fairy Tail, and have got through the first 20 episodes. This is one of those epic scale Anime's that have over 100 Episodes and counting, so if you get into it, be prepared to be in for a long haul!
I must say, I have been very impressed so far with this magical fight style Anime. From episode 1 it's packed with explosive action and comedy while staying quick paced and fresh feeling.
I must admit that some of my initial thoughts were "This reminds me of Bleach" and, well, it kinda still does, but with nicer animation, and a much faster pace. So far there have been a couple of story arch resolutions, and as I said, I've only seen 20 episodes!
Being a Bleach fan as well didn't hurt to be honest. As far as I'm aware from others that have been watching it and reading the manga, there is little to no filler, which is nice too.
The Characters are Over Powered and awesome, and each have a lot of personality and fun to them. Its well thought out, and the music is always good and matches the settings well.
I've deliberately tried not to say much about the plot as well, I hate spoilers, but it is good, and rolls well, so give it a try!
Here's the first introduction for you!