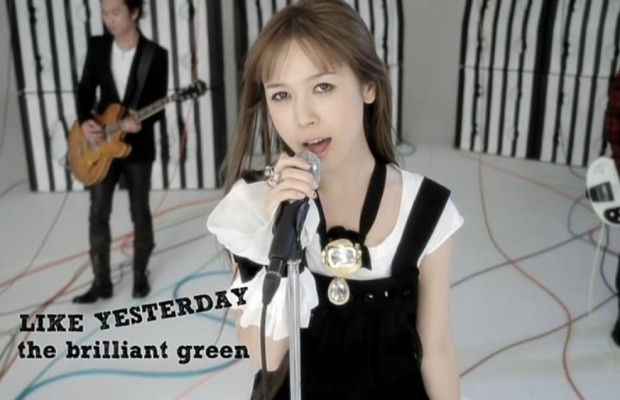 Kawase Tomoko is a well-known Japanese musician, mostly noted for her role as the vocalist for the brilliant green. She made her solo debut as Tommy february6, a character with an 80's-styled synth pop sound, in 2001. She made her debut as Tommy heavenly6, a character with a alternative rock sound, in 2003. Kawase is most known for such songs as "EVERYDAY AT THE BUS STOP", "je t'aime★je t'aime", "Wait till I can dream" and "pray".
The Brilliant Green
Kawase Tomoko was originally the lead vocalist and lyricist of the alt-rock band the brilliant green. She was asked to join the band in 1995 after her now husband, Okuda Shunsaku, and Matsui Ryo heard her sing when she took part in a karaoke contest. As the band's lyricist, she wrote and sung songs in both Japanese and English; an great feat considering she is not a native English speaker. Since the indefinite hiatus of the brilliant green, she has become more heavily involved in her solo projects Tommy february6 and Tommy heavenly6.
Kawase is involved with a multitude of projects outside of singing. In addition to her own solo singing career, Kawase produced and wrote songs for Tommy☆angels, former avex trax soloist Hinoi Asuka, and Fujii Takashi of Matthew's Best Hit TV fame. Kawase even once lent her voice for the anime series Piroppo as a character named Pikki. She even briefly modeled for Italian fashion house, Fiorucci, and for a period of time hosted Break Down, a show on MTV Japan.
Kawase is known for having an obsession with Elmo, the red Sesame Street Muppet, Harry Potter and more recently Pikachu from the anime Pokemon. On November 22, 2003, Tomoko announced her marriage to fellow band mate from the brilliant green, Okuda Shunsaku. In 2012, she joined the Halloween project HALLOWEEN JUNKY ORCHESTRA.
Tommy february6
Kawase Tomoko as Tommy february6 (2012)
Tommy february6 is the original solo-artist project Kawase Tomoko. Kawase began developing the character of february6 well before her debut. Her 'february6' persona is known for her geeky look, cheerleader themes, strange habits and librarian-esque glasses, innocent personality (as portrayed in the lyrics)as well as her love of flasks (as seen in the majority of her PVs). The name itself was inspired by her own birthday.
During the 2001 break in the brilliant green releases, Kawase decided that she would start a solo-project herself, debuting with the single "EVERYDAY AT THE BUS STOP". The February project was not meant to make much of an impact, or be very long-lived, but it gained a surprisingly large amount of attention. Because of this, two more singles followed and finally an album was released, also titled february6 (and naturally being released on February 6). After the album's release, Tommy announced that there would be no more 'february6' releases.
However, this was not the case. In 2003, after the indeterminate hiatus of the brilliant green, exactly one year from her debut album's release date, her new single "je t'aime ★ je t'aime" was released. The Tommy featured in these her songs was more sophisticated, though in essence not changed much. However, a new theme brought into her 'february6' releases were titles spelt in excruciatingly strange ways (for example, "MaGic in youR Eyes", "CAndY EyEs doLLS ∵" and "ChOOSe mE or Die"). Once again, three singles ("je t'aime ★ je t'aime", "Love is forever" & "MaGic in youR Eyes") proceeded the release of yet another album, Tommy airline.
Currently, two singles have been released that will be entered into Tommy's newest 'february6' album, "L•O•V•E•L•Y ~Yumemiru LOVELY BOY~" and "♥Lonely in Gorgeous♥".
A new Halloween EP, "Halloween Addiction", was released in October, 2012. At the same time Kawase also joined HALLOWEEN JUNKY ORCHESTRA (a Japanese rock special 2012 Halloween project unit lead by hyde and KAZ from VAMPS). They released the single HALLOWEEN PARTY in October 2012.
2013 saw the release of Be My Valentine, Tommy february6's first single since 2005. It was released as the first volume for the brilliant green's 15th anniversary of their debut. In April, Kawase announced on her website[1] that Tommy february6 would release a song titled Runaway, and that it would be used as the ending theme to the dorama Jitsuroku Sekai no Mystery. It also said a new album would be released in June.
Tommy heavenly6
Tommy heavenly6 is meant to be the dark side and the alter-ego of Tommy february6. Music released under 'heavenly6' is pop rock based and features a Tommy that is more sophisticated and classy than her 'february6' persona. Tommy heavenly6's character is obsessed with her image, and almost parodies modern culture. She loves reality shows (Joe Millionaire and The Osbournes), alcohol (Heineken and Corona with lime), and junk food (doughnuts, popcorn and cola, among other things).
Tommy heavenly6 begun in the double single release of "Love is forever" and "Wait till I can dream", which were both released on the same day. The PV's for both songs run together in a reciprocal motion (aka they can be played back-to-back and the story flows between them). Though both singles sold roughly the same amounts, the Heavenly6 single came out on top above the february6 single.
Much like how 'february6' was only planned for a temporary release, 'heavenly6' was planned for the same fate. However, 'heavenly6' returned for a second single, an Avril Lavigne-like downbeat single, "Hey my friend", which was used for the ending theme for the popular movie Shimotsuma Monogatari. A B-side on the single, "Roller coaster ride→", was also used at the opening theme for Shimotsuma Monogatari.

Nothing was heard from 'heavenly6' until March 2005, when 'heavenly6' was featured on LOVE for NANA ~Only 1 Tribute~, a tribute album for Yazawa Ai's popular manga NANA with the song GIMME ALL OF YOUR LOVE!!. Five months later, the next heavenly6 single, "Ready?", was released and to be quickly followed by the first heavenly6 album, Tommy heavenly6. In the summer of 2006, she released two new singles: "I'm Gonna SCREAM+" on June seventh and "Pray" on July, and she is scheduled to release a special Halloween single, "Lollipop Candy♥BAD♥girl", that features two versions of the song, a duet version with Tommy february6 that's 10 minutes and 31 seconds long (a nod to Halloween's date, October 31) and a shorter, five minute version featuring only Tommy heavenly6. (PVs for both versions have already been shot). That December, her next single "I LOVE XMAS" came out, in the PV Tommy heavenly6 makes a cameo. Two months later her next single, "Heavy Starry Chain" came out, the PV shows heavenly6 with a new D[di:]-like look. On March 7th, 2007, Tommy heavenly6 released a second album titled Heavy Starry Heavenly. After over a year without any heavenly6 releases, she announced on her official website that she will be performing the new opening for the anime series SOUL EATER.
In 2009, it was announced that her contract with Sony Music Entertainment ended. Kawase transferred to Warner Music Japan in the same year along with the brilliant green.