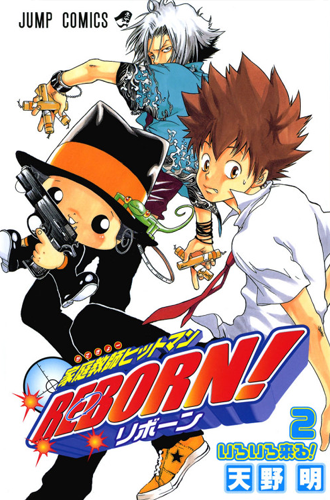 Kateikyoushi Hitman Reborn Review
Well, here we are again with another Manga review!
Today we will be reviewing Kateikyoushi Hitman Reborn
Creator: Akira Amano
Born: 22 June 1973
Volumes: 42 from 2004 to 2012
Currently reading chapter 30.
Story.
Tsunayoshi Sawada is just a normal school student living his everyday life…all be it that he has no talent, is clumsy and really is just no good at anything he has been given the nicknamed Loser Tsuna by his classmates.
He is also has a crush on his classmate, Kyouko Sasagawa (though she doesn't really show up much in the manga so far and plays a little part).
However, Tsuna's boring life is about to change when a small baby called Reborn comes into his world, did I mention that Reborn was a hit-man? and is only 1 year old!
Sent from the Strongest mafia family in Italy, the "Vongola family", Reborn has been given the task to mold Tsuna into the next mafia boss to take over from the 9th when they retire, due to Tsuna being there the only heir.
Using the secret techniques of the Dying Will Bullet which causes a person to be "reborn" with a stronger self to execute his dying wish, Tsuna will be transformed into a man to look up to and lead his new family…or will he?
The art style has been very nicely done and could be the thing that will probably keep you coming back.
My impressions after 30 chapters
Sadly I'm starting to go off this manga… 😮
Let me explain.
I've read 100's of manga series in the past and still read around 15 each month but Reborn leaves me wanting something more.
The main character is just boring and after 30 chapters nothing has changed. The story seems to always take the same route and lead into using the Dying will bullet…but sadly that gets old very quickly.
Tsuna never seems to learn anything or progress as a character, he's dependent on the bullet to win over people…sadly its just lacking.
It then introduces more infant characters that are just more annoying than anything and really stops any progression the story should have. Honestly I have seen this story done 100 times but in a better way where there is character development and structure to the story.
Sadly Kateikyoushi Hitman Reborn just feels like a waste of time when there are so many other great manga's out there.
God a bad review!
I may be the only one that feels this way as it seems to get high reviews but I have seen it done better then sadly reborn has done.
It may get better later on but I just don't want to spend any more of my time reading this :/