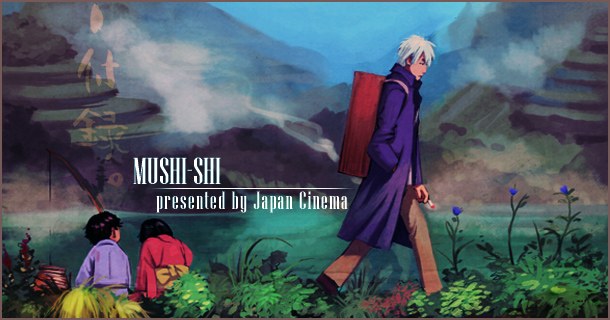 Thanks to Adam Bould for an amazing Review!
Well met reader, this shall be my first review on TokoRetreat and as I'm sure many of you are, I was spoilt for choice over shows to recommend to anime viewers. Decided to start off with one I think went largely unnoticed, the supernatural drama (maybe? Billed as a detective series according to wikipedia), Mushishi
Premise: Set in 19th century Japan, the world of humanity runs it's course, however alongside us are hidden beings appearing in all shapes and sizes capable of many a feat, to help or hinder, they are known as Mushi. The series follows Ginko, a "Mushi Master" on his journeys across the land studying these creatures and their effects on people and the world around them.
The first series is 26 episodes in length, each one being a procedural stand alone story with almost no bearing on previous episodes. Following on from that is one special and a second 24 episode series; Mushishi: Zoku Sho. It also has a live action adaptation,
Visual: animation is covered by Artland, took a look at their bio whilst writing this and they have not done too many series, in fact this and "Demon King Daimao" are the only series I have seen by them, but that should not put you off. The colour palette is very soft which lends itself well to the feel of the series (almost a folk tale story series), I think it would have looked off have hard lines and bold colours is this show. Character illustration and backgrounds are also very nice, if not sometimes a little rough in places, but then even juggernauts like Naruto have derp faces every couple of episodes.
Audio: I will my hands up and say I have only watched the English language dub of this series, but will defend myself in that Ginko (MC) is voiced Travis Willingham (dudes Roy Mustang, so suck it). It is only him and the episodes side characters each episode and the dub licensed by Funimation is a high quality one. The score by Toshi Masuda is excellent, using traditional Japanese instruments to either relax, or leave a chill feeling within you.
Delivery: I could not decide what to call this section, chose delivery as this is how the show is presented as a whole from the source manga material.
As mentioned earlier each episode is self contained and procedural, so apart from Ginko you have no lasting contact with any other character. It may seem a struggle then to form any emotional bond, but the stories are so well done I found it easy to pick out favourite episodes.
The pacing is never quick, like I said it's a folk tale themed show, barely a raised voice throughout the entire series. For this reason I would recommend not to watch whilst very tired, as you may get lulled to sleep, but it is a great show to unwind with, and with no overriding arc, you don't feel driven to marathon it.
Emotionally there are episodes that are give you the warm and fuzzys, but there are darker episodes that have less than "perfect" endings. This series really hits the right balance the melodic and the melancholic, something few shows do, which is why I recommend it to all. There will be no score, I watched it, loved it, and hope you do too.
(One off special and series two are currently subtitled only)