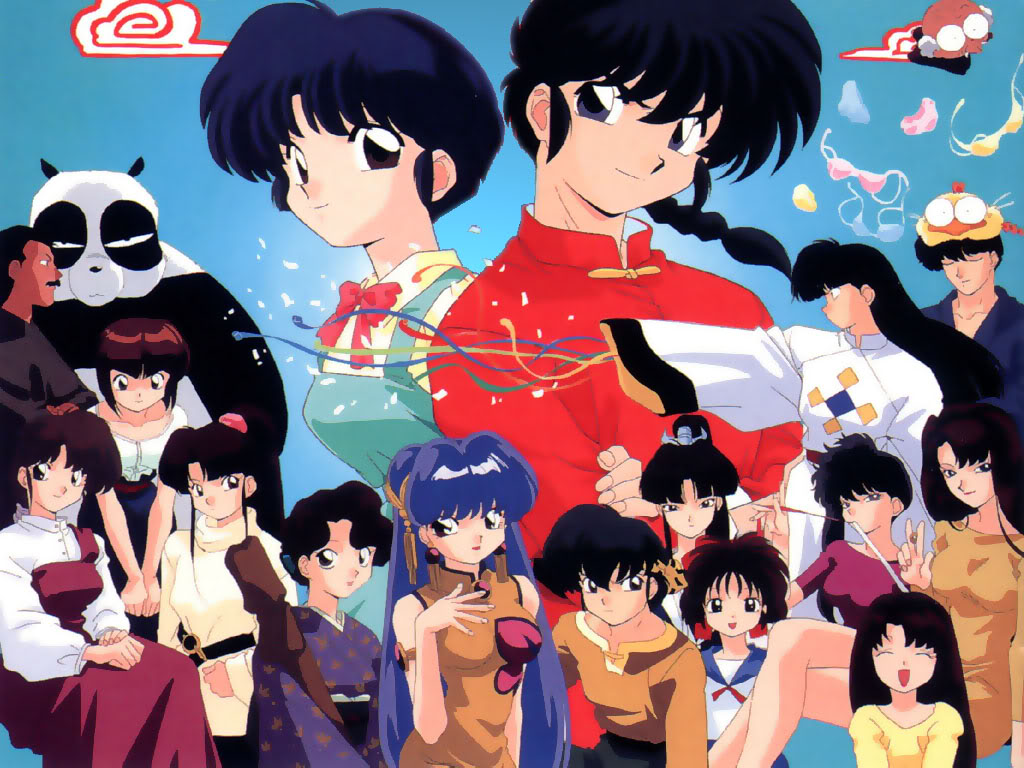 It must have started about 15 years ago, a good friend introduced me to Ranma 1/2
the story revolves around Ranma Saotome and Akane Tendo.
Both have been arranges to be married by there fathers, but Ranma seems to be a popular guy and Akane seem to have her share of interested guys too… will they get in the way?
The odd thing is that Ranma has a little secret that he got when visiting the cursed springs of Jusenkyo, the story goes that if you fall into one of these cursed springs you take the form of whatever died in that spring when your splashed with cold water.
The Anime has many characters like the forever lost boy Ryoga, and some may have also been to the springs too along the way
With 7 Seasons, 3 films, 11 OVA's, 9 Specials, live-action, And 38 manga books there's plenty to keep you busy!
An oldie but very good.
My fav Intro, Season 2
Ranma ½ (Japanese: らんま½ Hepburn: Ranma Nibun-no-Ichi?, pronounced Ranma One-Half) is a Japanese manga series written and illustrated by Rumiko Takahashi. It was serialized in Weekly Shōnen Sunday from September 1987 to March 1996, with the chapters collected into 38 tankōbon volumes by Shogakukan. The story revolves around a 16-year old boy named Ranma Saotome who was trained from early childhood in martial arts. As a result of an accident during a training journey, he is cursed to become a **** when splashed with cold water, while hot water changes him back into a boy.
Ranma ½ had a comedic formula, who often willfully changes into a **** to advance his goals. The series also contains many other characters, whose intricate relationships with each other, unusual characteristics and eccentric personalities drive most of the stories. Although the characters and their relationships are complicated, they rarely change once the characters are firmly introduced and settled into the series.
The manga has been adapted into two anime series created by Studio Deen: Ranma ½ and Ranma ½ Nettōhen (らんま½ 熱闘編?), which together were broadcast on Fuji Television from 1989 to 1992. In addition, they developed 12 original video animations and three films. In 2011, a live-action television special was produced and aired on Nippon Television. The manga and anime series were licensed by Viz Media for English-language releases in North America. Madman Entertainment released part of the anime series and the first two movies in Australasia, before their license expired, and MVM Films released the first two movies in the United Kingdom.