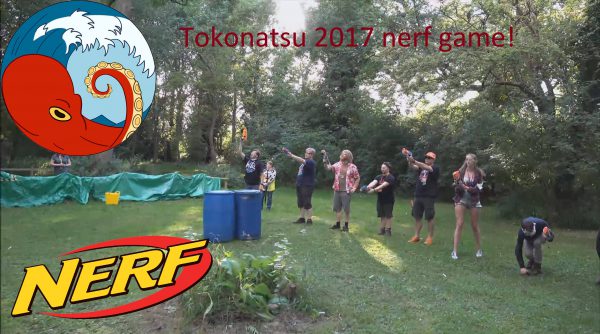 Tokonatsu 2017 Nerf War footage
First of all, we'd like to thank all those at Tokonatsu last year that turned up to the event and made it the fun that it was. Without you it would have been nothing, and as it was, it was awesome!
We actually ran at max capacity for the eye protection we had, which, considering that it was such a last minute event, is REALLY good.
The event was a Tokonatsu/Toko-Retreat collaboration, with help from the Events team to get it off the ground, and run and mostly organized by ED-SKaR, a first time attendee that pushed to make this happen.
He provided the vast majority of the guns, and all the rules, making sure that each game was fun for those involved.
On the day, we had overwhelmingly positive feedback, and we're looking at making this possible again for Tokonatsu 2018!
As such, we would love to hear your feedback if you were involved, and what you think would make it better.
If you weren't but would like to be involved this year, drop us a line anyway and let us know what it is you would like to see in an event like this.
You can either comment via Facebook, or via the video itself, and we promise to engage back and make it a conversation worth having!
Thank you to Adam Hay for taking the footage, ED-SKaR for putting the games together, and for editing the footage into it's form below.
I've waffled on enough now, here is the video, enjoy!!!
~ Rezal