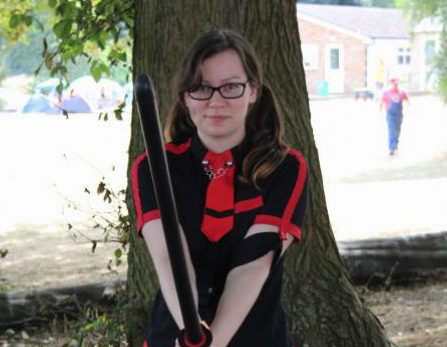 My Tokonatsu 2018 Highlights
July 31st Wednesday
The annual tradition of my Tokonatsu adventure always begins with packing the essentials. Over the years I have learned to travel light. Keeping your checklist short, lessens the chance to forget something important.
Next, I get myself over to my fellow con-goers house and spend the night to ensure we are all together for take-off in the morning.
August 1st Thursday
Might sound odd, but the three-hour car journey going to Tokonastu is one of my favourite parts of this annual tradition. I am tucked up in the backseat alongside the mass of luggage and cosplay with a tub of haribo and or my brother's homemade beef jerky. It always reminds me of those holiday trips to the seaside I used to go on with family in my early childhood. It is my dream one day to be the one who does the driving. Thank God for AC.
We arrive at the grounds and made our presence known to the staff before finding the perfect spot to pitch the tent. The last two months of unrelenting heat had left the ground parched and dusty. Being the hottest summer of my existence, we chose carefully and set up under the line of trees for shade.
Slept on my first double sized inflatable mattress. Best £15 spent this summer.
August 2nd Friday
We were joined by our fellow Toko Retreat brethren and began erecting the village.
For the purposes of space, I usually transfer to another tent at this point. Despite being deeply introverted, I find one of the best ways to get to know friends better is to share a tent with them. So long as I have my own pod to escape to when I start feeling socially drained, I can happily coexist with most people. I find myself opening up and feeling understood by those around me. The smallest interactions and conversations that most might take for granted, these are the moments that make Toko so special to me. It is the only time of the year where I feel completely free to be who I am.
Dinner: The past few years have seen a big development in food vendors. We had more choice than ever this year. Burgers, hand-made pizza, curry, bubble tea, coffee just to name a few. It was refreshing to see some healthier options available made with fresh vegetables and served hot. I imagine these will be welcome in the future when the weather returns to the typical British summertime standard of cold and damp.
Evening: Gaming Tent – Dead of Winter. The brilliant thing about the gaming tent is that there is always someone in there looking to play. Even if it's a game no one knows well. They will happily sit and play with you. Drifting con-goers will join in or spectate. After having seen this game on display in a few places I figured it was time I finally tried it. Nothing quite like surviving an ice-cold zombie apocalypse with friends on one of the hottest weekends of the year. The rules were complex, even for the more experienced gamers. It was one of those games where your fate was sealed by the roll of the dice. It didn't take long for things to go pear-shaped for our group of survivors.
August 3rd Saturday
Morning/Early Afternoon: Assisting with the Writing and Colouring Contest judging with Toko-R crew over an iced-coffee.
Later on, my fellow Toko veteran, Rebby requested my help in styling his Riku from Kingdom Hearts cosplay wig. I temporarily turned the Toko-R gazebo into a walk-in salon to accomplish this.
I decided to slip into the cosplay I had spent the last few months putting together. I had been meaning to cosplay Saya from Blood-C for a few years now and I finally got around to bringing it to life. My make-up didn't stand a chance in the insane heat.
Later, later: The manga library provided the perfect spot for some quiet time to catch up on some reading. Personally, I have been stockpiling the latest volumes of the new Cardcaptor Sakura and Mermaid Boys manga. Another title I wanted to read was CLAMP's Wish. (I recalled seeing it in the library last year so I finally gave it a shot.) The selection available has grown considerably due to the donations made over the years. Its an economic way to share our love for the artform with those who have yet to experience it and hopefully inspire a lasting interest. It's also a great way to free up space in my own collection for new additions to my collection.
August 4th Sunday
I sometimes feel slightly melancholy when Sunday comes around. A lot of con-goers set off for home after the closing ceremony in the evening. However, I have noticed that more people are choosing to stay until Monday morning. The more the merrier I say.
I don't recall getting up to much. I think I spent the day reading Mermaid Boys vol 2. (Hopefully have a review for this in the coming months.) I also remember that we all had to pose for the drone photograph at the closing ceremony as Team Rocket drifted overhead in their hot-air balloon.
Late afternoon/Evening: I spectated the final game of Toko-R's latest sporting event, Zonbi Doggu! Next year, I would like to be more involved and maybe try the archery too. After Zonbi Doggu, the Toko-R crew settled down for the Anime Cinema. It kicked off with some classic Tenchi Muyo, followed by modern horror, Another. I was keen to see how my friends would react to this one as it's a personal favourite of mine. It was received as expected and I was glad to have finally shared that experience with them. Everyone had fun.