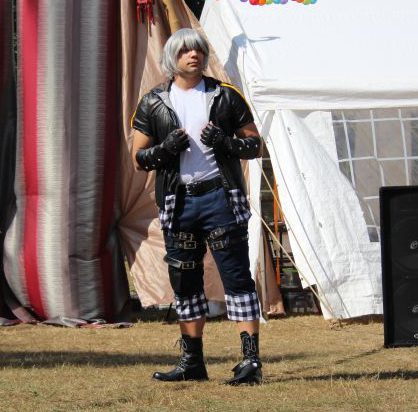 Rebby, My Toko 2018 Review.
Tokonatsu 2018 for me was a big eye opener. It was the first time I'd been fully involved with the Toko-R pre-Festival process. I learned how dedicated they are and how much time, effort and planning goes into conceptualising, creating and running the awesome events they put on!
In the weeks and months running up to the event, there were regular meetings and ongoing discussions to agree on the best way to achieve what they had planned. Alongside that is all of this… the content you're reading now. It's important for us to share the anticipation we feel ahead of the event and the genuine excitement that builds in each and every one of us!
As the event got closer, I had my own rising tension building: it would be the first time I'd hand-built a full cosplay and entered it into the masquerade. I had chats with the Cosplay team at Toko to ensure my props were appropriate and safe… I spoke to friends I'd made in previous years at the event to ask for tips… I even had a couple of pep talks from real veteran cosplayers when I was feeling my most self-conscious and temptation to give up was mounting. I even had some physical help with wig styling from Toko-R's very own veteran cosplay pro Hoshino-Libra J
On the day before the opening ceremony, I was heading down to the event venue. It's actually a really convenient station to get to from London on a 30 minute train which I think must have been cleverly decided by the committee when the event moved location about half a decade ago. I love the atmosphere on the Thursday because there's so much teamwork and collaboration to ensure all the marquees, lights, comfy furnishings and practicalities are sorted. Everyone pitches in and the feeling of family I've always had about Toko really shines.
The Thursday night's a quieter one and this year was no exception. It a mostly committee with a few early-bird ticket holders catching up around the camp fire. One of my favourite parts about Tokonatsu is that the friends I've made there over the years – no matter if we only see each other at the event – really and truly it's almost like we saw each other yesterday, we just slip into that easy way of being.
Sadly, the event itself seems to always go by in a blur. Friday, Saturday and Sunday were all great fun. I had some fantastic support from the Tokonatsu Cosplay team when it came to gearing up for the masquerade. It's such a great spirit of togetherness back behind that curtain, I can't recommend it more; there are people of all levels from pros on the national stage to first-timers like me and the mutual respect and admiration for anyone who's willing to put in the time and effort to get into the hobby is super awesome!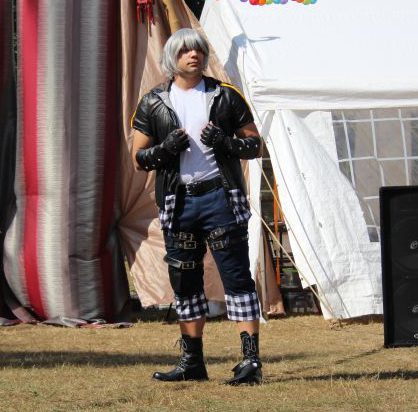 I pretty much stopped playing the outdoor games at Toko years ago, I'm getting old! There was one that I really did enjoy this year though and that was Zonbidoggu. Such a simple concept but with that otaku twist that makes all the difference. The team learned and took on feedback between the first and second runs of the game and I think it's really benefited from that. Super fun!
If I had one negative point to raise about the event this year, I would say that the food trucks lacked in healthy / dietary requirement-friendly options. I recently got put on a special diet by my doctor and neither pizza nor burgers really make the cut. That being said, thankfully the committee clearly chose great people to partner with and they had no problem with my wandering up with shop-bought GF bread and making me a sandwich with their produce which was awesome.
The matsuri festival area this year was so beautifully done. The fairy lights (conceptualized by Myst and realised by myself and a team of helpers) were a great addition and really formed an environment which felt special and purpose-built. Plus, people loved the arch as a photo spot!!
The expansion of the maid cafe and food court area in general was also a great update this year. It really became a lively social hub for people to sit, eat, chat and enjoy some all important shade. This, along with the tireless work to ensure no water dispenser was ever completely empty was a great effort by everyone on staff to keep everyone in attendance healthy and safe and this just adds to my love for this community.
The closing ceremony is always bittersweet for me. The guys are so great about showing appreciation for all the staff and helpers who make the event as great as it is… but it's the sign of everything winding down and wrapping up. I personally believe if Tokonatsu were a desert island and I had to live with the inhabitants for the rest of my life, I'd be a very happy puppy!
Bring on 2019 :3