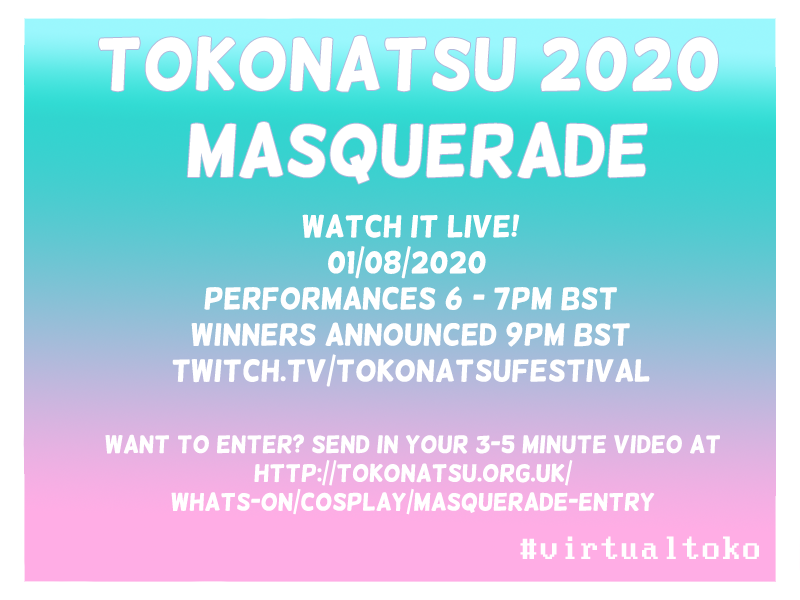 Tokonatsu 2020 online edition!
Well as you know the world we live in has changed… And due to this as we sadly know by now Tokonatsu 2020 is not longer happening as it normally would.
However!
Don't think us at Toko-R and Tokonatsu don't have you covered!
We have all been working hard in the backgrounds in preparation for the online edition of Tokonatsu!
So without any-further delay… here is the latest from Tokonatsu! online edition 🙂
"Tokonatsu"
If you're anything like us, one of the highlights of your Tokonatsu experience is the Masquerade. Sun, SPF, and sewing skills all in one place. What could be better?
Well, we can't quite recreate that experience this year, but we're still keen to admire a little cosplay. That's why we're pleased to announce that the Masquerade is back this year in #VirtualToko format!
Held on Twitch, the Masquerade will run from 6 – 7 PM on 1st August. The winner of the Masquerade will be announced at 9pm on the same day, and will receive adulation, adoration, and a very shiny trophy.
If you're one of the many cosplayers who've worked super-hard on a costume only to find you've nowhere to wear it, why not enter? We'll be accepting video entries between 3-5 minutes long, so feel free to stretch those creative muscles! If you've always wished you could add special effects, lasers, smoke machines, spinning disco balls, and talking animal sidekicks to your Masquerade entry… now's your chance. 🙂
Sign-ups are open on the website until 10AM on the 1st of August. Head over to the site at https://www.tokonatsu.org.uk/whats-on/cosplay/masquerade-entry/ to find out more.