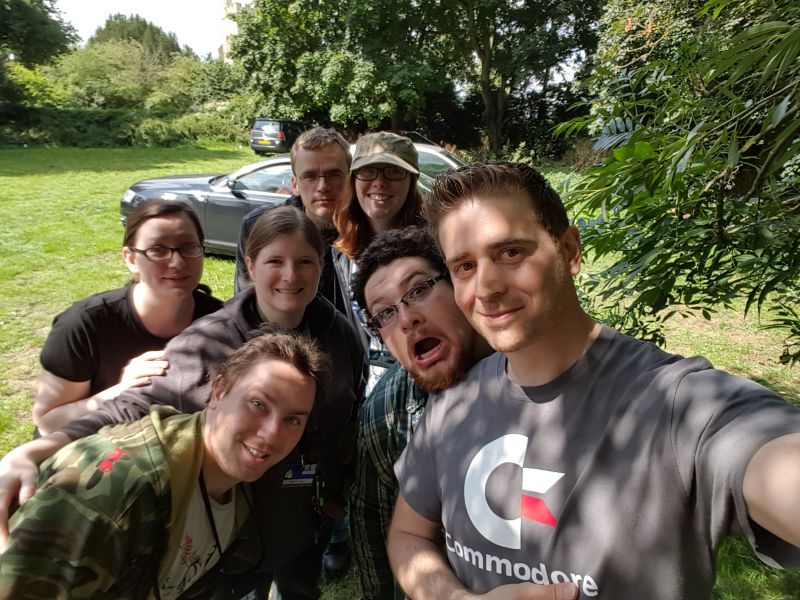 Toko '18 T-Minus 2 Weeks – Toko-Retreat
With 2 weeks leading up till Tokonatsu, the hype has begun to set in, and the excitement is building.  If you haven't already purchased your ticket, there is still time! Head on over to the ticket page now!
In the run up to Tokonatsu, we like to release some articles relating more to the festival itself, and what is on offer, and so this week is our annual "who we are" at Toko-Retreat post 😀
Toko-Retreat
By now, I imagine a lot of you have a better idea of who we are, and what we offer, which is great! For some of you though, especially those that are new, there might still be some confusion as to where we fit in.
As of two years ago, we started to offer events at Tokonatsu for attendees to participate in, and last year we were invited to become staff and now operate (at Tokonatsu at least) as an independent department within the Tokonatsu family. This was a big honour for us, and we take our role seriously, in bringing you serious fun 🙂
We have sometimes looked intimidating to new-comers, as we have lots of lights and banners, but I assure you, these are designed to have you come over and say hello, and not to push you away! So if you see our banner, pop over and introduce yourself, stay for a chat if you like, we love meeting new people!
So, how did we start and why? In the days pre-dating the explosion of social media, Tokonatsu used to have a popular set of Forums, but they were only open a portion of the year, taken down as the site went through its yearly re-vamp. During this time, we thought it would be a great idea to have a place that the attendees could go to, and keep in-touch throughout the year. A 'retreat' from Tokonatsu if you will (hence our name!)
As such, we created a site, with a set of forums, and invited people to take part. We also became the defacto photo-gallery, and barring Foxy's Instagram, probably still have the largest collection of Tokonatsu Photos spanning back to 2005.
With the rise of Facebook though, our role changed, and our need faded. Through 2012-2015, we mostly existed in a capacity to bring Anime reviews and snippits of news from our inside links at Tokonatsu. We did start providing the Open Air Cinema in this time, but we were still an obscure entity.
As mentioned above, two years ago we were asked to provide some panels and events, which culminated in us hosting the Writing, Art, and Card's Against Humanity competitions that some of you may have taken part in. These have been huge successes in the years we've run them, and we received nothing but good reviews from those that approached us.
This year, we're switching things up a little, partially to do with site layout changes, and some to do with what we felt worked, but here is a run-down of what we're offering this year!
Last year we had our own festival area off to the side of the main area, but this year our marquees are being merged into the main festival, and you'll find all of our offerings within a very small distance of each other.
We are still offering chill-out areas for those of you that need a break from the more physical events, or for those of you that just want to relax. This will include the Manga Library that we set up last year, comprising entirely of donated manga! If you would like to add to this collection, feel free to bring your unwanted manga down for others to enjoy 😉
We have decided to cycle Retreat-Against Humanity out of our line-up, as it's proven a bit difficult to maintain and judge over the last two years, however, a copy of our 2016 deck was donated to Trad Gaming last year, and you can play it to your hearts content!
You can also look forward to a presentation on how to create Bubbletea, a light Role Play Session, and a panel on Japanese life and culture presented by Rebby 😀
New to this year's line-up includes the mysterious Zonbidoggu replacing the Nerf War from last year, you'll have to show up to find out what this event entails 😉 As well as this, we are adding a Colouring in contest to run parallel to the Art Contest, for those that don't fancy themselves the next Picasso, AND we are also adding a Toko-R Pub Quiz! (Not to be confused with the Anime quiz, which is VERY different).
And if that wasn't enough, we are also hosting a Martial Arts demonstation led by our favourite Scot, Dragonwolf!
So come on down, relax, take part in as much as you want to, and perhaps make some new friends!
 Members:
M pro
Co-Founder, webmaster, reviewer, helps come up with new events and procurer of Anime. M pro puts together the Anime schedule every year based on what we received from MVM, and supplies all the AV equipment needed to make it possible. As well as this, he has designed all the graphics, takes all the pictures, and built all versions of the Toko-Retreat site. We would not be what we are without him. Also helps to illuminate the Toko-R tents.
Rezal
Co-Founder, Author/reviewer, Competition master. Provides the bulk of the articles that goes up on the site (including this one 😉 ) and organizes the competitions that we host at the festival. Responsible for putting together the Manga Library, and keeping the rest of the team organized in general.
Hoshino Libra
Our resident artist, assists with judging competitions, and this year has been providing us with manga reviews for the website! You'll see her about assisting with the smooth running of our events.
Hoshino_Okami
Our resident technician, providing the other half of the illuminations, and assisting with AV set up and power distribution. He is also good at crafting what we need, and if something needs fixing, Hoshino_Okami typically has the tools! He has also started to provide reviews for the site this year, and has been covering some interesting Anime. He'll also be volunteering as a rag-doll for the Martial Arts demonstration 😉
Hoshino_Draco
Our resident mad scientist! She provides a lot of the supplies for the competitions, and does a lot of the work in printing and putting together our competitions. She will also be providing a Bubble Tea demonstration for you all this year.
Members not in attendance:
Lauri0s & Yenots
Previously they ran the Toko-R Get Ready Tent (which is still at Tokonatsu, but now under Cosplay HQ! J ) they have been a lot of help to us over the years. Unfortunately they won't be able to make the festival this year, but we hope to see them again next year! 😀
Margo & Spawn
Our little mascot and his keeper! They aren't in attendance this year, but you might see Spawn on Saturday if you keep your eyes open 😉
Odyssey & Struggles
These outstanding members are unable to attend this year due to family commitments, but they have been a rock of Toko-R for many years. Odyssey is one of our founding members, and probably the social Guru of the team. If you've been attending Tokonatsu for any years, you probably know her better than you do Toko-R, and in recent years, you would have gotten to know her outstanding husband Struggles. You'll be missed this year, and we hope to see you back again soon!
Tiki
M pro's better half, she keeps him sane through-out the year, and is probably the reason he can get so much done for us in the first place. We hope you can return again sometime, and thank you for everything you do behind the scenes!
Merida
She's a bum face and likes to get in everything! (her dad's own words 😛 )
Chuchunezbee
The spirit and core of what Toko-R is. He brings the party, the tunes, and the good times. Anytime that Chuchunezbee can make it is a good year, and one that we always remember!
That just about sums us up, if you have any questions about us, or the events we are hosting, feel free to contact us at via our FB page: https://www.facebook.com/TokonatsuRetreat/
That's all from us before the event, we can't wait to see you there!
And remember, if you haven't nabbed a ticket, head over to https://www.tokonatsu.org.uk/registration/ticket now and get your place reserved! I can guarantee, Tokonatsu wouldn't be the same without you!
~ Rezal